January 16, 2019
"When people feel insecure about something, they look around for validation. Show them that other people trust you." – Francisco Rosales, Marketing Coach 
It is an often-overlooked element of a marketing strategy. You can invest a ton of money into a state-of-the-art website, you can have a great sales pitch,  you can have the most robust online marketing campaign, but if your prospects don't trust you, they're not going to go with you.
Trust is everything. Prospects need to know that the work you do is effective, they need to know that you are authentic, and they want evidence that if they invest their money with you it will pay off.
Establishing that trust with prospects needs to happen early and needs to be done well. A prospect may come to trust you, or come to distrust you, without even having spoken to you.
As hard as it may be to believe, trust can be established through your online presence most particularly through your website.
Here are several methods to establish trust with a prospect prior to them even picking up the phone!
Testimonials
Nothing establishes trust more effectively than testimonials from satisfied clients. To actually see that a series of people have had a positive experience working with you and your company will generate a deeper level of trust than any sales pitch ever could. 
It's critical to include the name of the person giving the testimonial, not just the quote! If you can include a photo of the person, the name of their company and their title there, that will make the testimonial all the more compelling. 
We are grateful to the good people who have left us testimonials, and our prospects have told us throughout the years how impressive they have found them:

Case Studies
What's better than seeing a testimonial from a satisfied customer? Seeing the entire process and how it played out for that client! A case study  ramps up the trust Factor because the prospect is able to see how you worked with this client, Alpha through Omega.
 A good case study addresses the following elements of a project: 
What was the client's need?
Why did they select YOUR company?
What was the objective of the project?
What was the solution offered by YOUR company?
The end result is particularly important because it explains in detail the return on the investment that the client received in working with your company. What was the successful outcome of the project? What did the return on investment look like? Did it improve sales? Did it improve company growth? 
This is where your company really gets the opportunity to shine. Show your prospects how you work with your clients and how you achieve success with them, and it will go a long way to establishing trust.
Client Logos
If you have some big-name clients that can go a long way to establishing your credibility with a new prospect. Creating a section on your website that shows the logos of some of these big clients can be influential in establishing trust. As these well known companies have chosen to do business with you, the credibility of these companies is passed on to you. 
Here is an example of that with one of Bush Marketing's clients, Springbank Mechanical, a leading Ontario commercial HVAC company: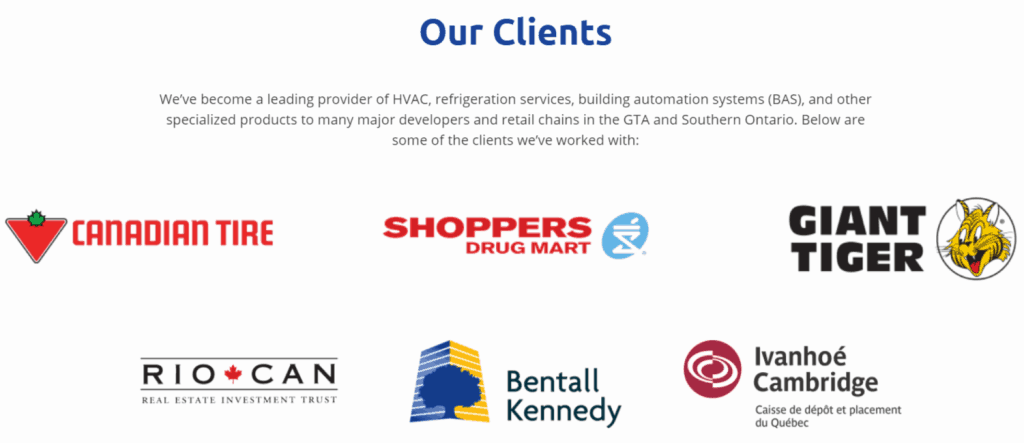 Right away you can feel the impact of seeing the Canadian Tire, Shoppers Drug Mart, and Giant Tiger logos. Impressive.
Authentic Photos/Videos
People do business with people. Good business is always about building relationships.  If your business is designed in a way that you have the opportunity to showcase your team and your office, make sure you take advantage of it. 
It goes a long way towards credibility when a prospect can look at a team page and see the names and descriptions of all the people that may be working on their initiative. 
Hiring a photographer to come in and shoot the team and, if you have a brick-and-mortar location, shoot the office as well is a very good investment. Those images can be used on your website, in your print marketing, and also in your social media marketing campaign.
Another consideration is to hire a video team To shoot and create videos that profile your company. These are extremely effective in generating credibility with prospects. Types of videos can include:
Company Presentation, or "About Us" video
Product/Service Demonstration video
Blog, or "Quick Tips" videos
Again you're looking at a financial investment, but the payoff in trust and credibility can make it well worth it.
Reach out to us at info@bushmarketing.ca if you would like to discuss your business, your company goals and the future of your marketing.
Bush Marketing | Web Design Company Toronto | SEO Company Toronto | Call Today!