September 18, 2017
When you hear about a company for the first time, through an ad or possibly a referral, what is the first thing you do to learn about them? Like most people, you likely look them up online to vet them for yourself.
We live in an age where everything you could possibly wish to know is at your fingertips. Because of this, it's vital that the online face of your company is firing on all cylinders. And it all starts with your website.
As a Toronto web design and SEO company, we have written this article so that you can determine if it's time for you to invest in a new company site. Here are 8 identifiers that your company might be due for a new website.
1. No Search Engine Optimization
Before your potential customers can view your website, they need to be able to find it. First page sites get 91.5% of Google traffic, so it is essential that yours has a high SEO ranking.
Here's a chart from Moz illustrating the different aspects that go into your SEO ranking: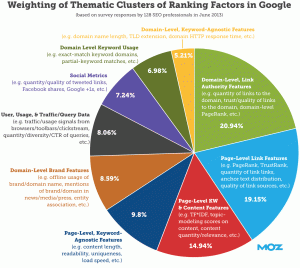 2. Not Responsive/Mobile-Friendly
When it comes to state of the art websites, making sure that they are mobile-friendly is paramount. A responsive website is one that is designed to adapt to the size of any screen, whether it's a computer, smart phone or tablet. This is not the same as a mobile version.
If your website is not responsive, it creates a poor user experience which will cost you business. It is also a determining factor when it comes to search ranking. Websites that are not responsive are penalized for it severely in the Google rankings.
With all the different ways people are able to access the web, it's important that your website is formatted for all devices. And with over 75% of Canadians owning smartphones (Pew Research Center), that's a lot of potential clients you could lose due to a non-responsive website.
3. Looks Antiquated
This indicator can be more difficult for the layperson to diagnose. Elements here can include fonts, style, pictures or just overall interface. The best way to determine this is to consult an expert, or try asking colleagues and customers for input.
4. You Make Excuses for your Website
If, when speaking to those who may view your website, you find yourself saying things like "we're going through a transition phase right now" or "our online presence is something we're working on", it might be time to admit you need a new site and start doing something about it. Even if the excuses you make do have some truth to them, they will not compensate for a lackluster site.
5. You Don't Have Access to the Backend
Modern website platforms often have a CMS, or a content management system. This allows you access to the back end of the website, so that you can make small changes, blog etc.
Website creation tools like WordPress are a great way to organize your content as well as an easy, efficient way to update your website manually. This allows you as the owner, a tremendous amount of freedom in making website changes, and you are not dependent on a web developer to handle everything. It is far more time and cost efficient.
6. No Social Media Links
Having your social media accounts integrated into your website is critical in developing a following online and increasing your Google rankings. Oftentimes a website may be older than the social media accounts, so if those aren't on your website, it's a way to gauge if it is time to invest in a new one.
7. Your Competitors Websites are Better
This is something that can be out of your control, due to competitor size and marketing budget. That being said, if you are admiring your competitors' websites regularly, its likely time you make the investment in a redesign. If you think other sites are better than yours, odds are that your customers are thinking the same thing.
8. You Don't Remember the Last Time You Updated It
If you can't recall your website's most recent tune-up, it's probably a good idea to consider one. We recommend that companies update their websites quarterly, and likely need a new website altogether after 4-5 years.
The essential factors in this are style and technological progression. A company should also make weekly updates with regard to dynamic content (eg. blogging) and checking pages and links to make sure they are functioning and performing up to expectations.
Conclusion
If you are suffering from any of these indicators it is time to consider a new site for your company. Revamping your company website shouldn't be considered a chore, as it is an opportunity. It is not a cost, but rather an investment into your company's growth.
A powerful, state of the art website is paramount to achieving success in your online marketing strategy. Realizing that you need a new one is the first step toward accomplishing that.
Bush Marketing | Web Design Company Toronto | SEO Company Toronto | Call Today!