August 22, 2017
All businesses are created for what is essentially the same purpose: selling products or services. For some business models, selling these products and services online is a great fit. If this is the case with your business, then we want to make sure that your Toronto e-commerce store is the best that it can be.
This article details the key components that every e-commerce store needs to be successful.
Branding and Design for Your Toronto E-Commerce Site
When selecting a design for your website, whether it's a pre-made template or a custom build, it needs to reflect the nature of the products and services that you are offering. If you have existing branding in place, like a logo or font selection, or perhaps even a style guide, all of that should be taken into consideration and incorporated into the site itself. Brand consistency on a website, whether e-commerce or not, is incredibly important.
Professional Photography 
The photographs that you choose to use on your website will be a reflection of the quality of the products. It is always best to have a professional photographer to shoot your products so that they are viewed by your potential buyers in the best possible light.
Cell phone shots, pixelated low-resolution shots, bad lighting, all of these will have a dramatic effect on your bottom line when it comes to sales.  Professional photography is a very wise investment when selling your products online.
Shopping Cart Visibility 
When designing the page, we want to make sure that the shopping cart is always visible. This allows your buyer to check out whenever they want to. If they have difficulty finding it, they may think that making the purchase is not worth it, and simply leave the site.  This is a very common problem with e-commerce stores. Not that people don't want to buy the products, but that they put it in the shopping cart and then move on without purchasing. Let's avoid that at all costs.
Search Bar 
We want to make it as easy as possible for your customers to find the products you're selling.  if you only have a few products, then this isn't a big deal.  If, however, you have a long list of products, you need to help your visitors find what they're looking for as easily as possible. Otherwise, again, they may become frustrated and simply leave.  Make the search bar both visible, and present on every page.
"Add to Cart" Button 
This is unquestionably the most important element of your e-commerce store. For every product and every iteration of that product, there needs to be an add to cart button. Ensure that the add to cart button is clear, distinctive, and big enough for people to notice. Again, we do not want people to labor to purchase your products! Make it easy for them.
Use White Space 
When it comes to e-commerce stores, a minimalist approach to design is always best. White space, or negative space, is the area of a web page in which there is no text or graphics. Having white space is wonderful! It showcases the products far better than cramming a bunch of product images on a page. Treat the photos like art, and give them a white backdrop.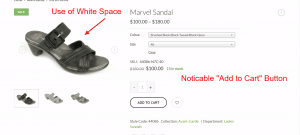 Delivery Charge Transparency 
Nothing frustrates a shopper more than getting hit with a big delivery charge during the checkout process. When designing your site ensure that delivery charges are made available for the Shopper to see while they are looking at the product.
Surprise fees at the end of the checkout process is another culprit when it comes to people leaving products in their shopping cart.  Always be forthright about the additional cost, and do it up front.
Social Media Integration
If somebody is coming to your website to purchase a product, it can be assumed that they are a fan of your product. Let's go ahead and integrate social media, and get them to follow you on their preferred platforms. Not incorporating social media into an e-commerce store is a blown opportunity for continued customer awareness.
Enewsletter Sign Up On Your Toronto E-Commerce Site
Along the lines of social media, we want to have an email newsletter signup form on your website. Email newsletters are a powerful way to reach your customer base on a consistent basis. You can offer deals on your products, inform of the new products that have come in, offer testimonials for your products, and so much more.
If your business does not have an email newsletter, you should get one immediately. And once that's done integrate an email newsletter signup form on your website. You can do it in the form of a pop-up, or in the footer of the website itself.
Another smart move is to offer something to people who sign up for your newsletter. Like a discount on their first purchase!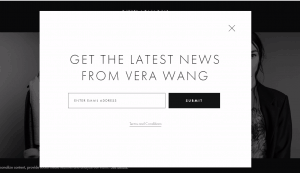 Simple Checkout Procedure 
Some time ago, I was purchasing a product on a website, and it wouldn't let me check out unless I signed up for the email newsletter. As an expert in design and user experience, this was mind-blowing. It was such an intrusion that I simply walked away from the website.
Your customer wants to purchase the product. They've added it to the cart and are ready to pay! Let's make the checkout process and payment process as simple as possible. Let's get it done in the fewest number of steps that we can.
Contact Information is Vital to Toronto E-Commerce
Your goal in selling your products is to make your customers happy. Often times you'll find that your customers have questions that they are not able to find the answers to on the website. Perhaps they have a question about a return.
Make your contact information available to them. Give them several options. Allow them to fill out a contact form or to call a number. Your customers may want to speak to an actual person. Let's give them that option and make them happy.
Payment and Shipping Systems  
When building your e-commerce store you're going to need to receive payments online. A gateway set up to receive credit cards and online payments is critical. Many companies opt to use PayPal for this, as it is easy to use for both seller and purchaser, and is a very common method of payment online.
Once your customers made their purchase, you need to have a system for shipping it. Setting up accounts with your preferred shipping vendor whether it is Canada Post, UPS or another can and should be done in advance of designing the website.
Conclusion 
There is a great deal that goes into designing an effective and powerful e-commerce store. These are just a few of the things that one needs to know in order to develop and launch one successfully.
Bush Marketing | Web Design Company Toronto | SEO Company Toronto | Call Today!