December 1, 2016
The world of Google is very, very big. Google says that the web now has 30 trillion unique individual pages, which is up an astounding 30 times in 5 years. With all of this noise, it is vital to make your voice heard so that your potential clients can find you and not your competition. This is precisely what SEO, or Search Engine Optimization, is about.
In this article, we will review SEO, what it entails and the benefits of investing in it.
What is SEO?
In it's simplest terms, SEO is optimizing the content on a website and generating activity off of a website so that search engines can find it and give it a favorable ranking. SEO can be broken down into three categories: Onsite SEO, Offsite SEO and Quality Content Development.
Onsite SEO
Onsite SEO consists of all measures taken on a website to make it a more attractive choice for a high ranking for the search engines. Google has over 200 criteria that it uses to determine whether or not a website should warrant a higher ranking.
This list is not released to the public, but experts have managed to determine what measures work. These measures can be content related, and they can be technical. Some examples are:
Content Related SEO Examples
Page Titles
Page Descriptions
Rich Media (video, images, etc.)
Word Count
Image Alt Tags (image names)
URL Name
Technical SEO Examples
Load time
Error Pages
Redirects
Mobile Friendly
Offsite SEO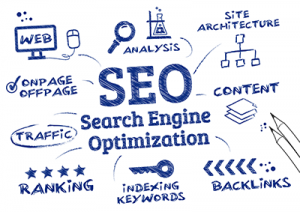 Offsite SEO is that act of generating a high number of inbound links to your website from respected or high ranking websites on the web. The more activity Google sees about your website on the internet, particularly in popular and well-respected sites, the higher it will rank your website.
Google considers this to be akin to these websites "vouching" for your site, and thus it rewards you. This can be done in a number of ways. Some examples are:
Social Networking Sites
Blogs
Forum Postings
Search Engine Submissions
Directory Submissions
Social Bookmarking
Quality Content Development
Quality Content Development refers to creating fresh and dynamic content to your website on a consistent basis. This most often presents itself in the form of blog posts. Google loves to reward websites that create new and valuable content for their customers (Google likes it when you help people) and is more likely to reward your website with a better ranking. Important factors to consider when creating dynamic content for your site are:
Word Count. Ensure that the blog post is a minimum of 500 words, ideally 700+.
Rich Media Integration. Use images and videos in the blog posts themselves
Keywords. Select keywords that are essential to your post but also that you wish to rank for. Use them in a reasonable amount (about 3% of you copy or less). DO NOT STUFF. Adding too many keywords can get you penalized.
Title, Link, and Description. Make sure that you are incorporating your keywords into these three areas.
Mobile Friendly. Make sure that your site/blog is mobile friendly. This is vital.
Our Services
At Bush Marketing, we facilitate all three of these elements of SEO in our marketing strategies. We offer monthly reports emailed directly to you showing the month to month growth in the rankings and we consistently monitor and adjust our strategies generate the maximum potential for high rankings.
Unlike previous SEO companies that I had dealt with, Andy was exceptionally responsive and happy to meet face-to-face. He provided me with a detailed analysis of my existing status, walked me through it, answered all questions I had, and offered many concrete suggestions on what we could do to improve my internet presence within my budget. With this SEO strategy, my site had multiple entries on the first page of Google within a matter of months, and my business has flourished as a direct result.
 – Leslie Buback, Yoga Grove, Toronto
Interested in a custom designed Search Engine Optimization strategy to help launch your business past the competition? Call Bush Marketing today!
Bush Marketing | Web Design Company Toronto | SEO Company Toronto | Call Today!