June 9, 2020
First of all, success in DIY content creation (eg. business blogging) is always based on being pragmatic with what you are actually willing to do. There is no point in setting up a system that you won't follow. It can actually be damaging in that you may feel like you have failed or that digital marketing "doesn't work".
Creating Valuable Content With Your Business Blog
In order to be effective in influencing your target market, you need to provide them information of value. That means creating content that they will want to read, share and come back to for more.
Where do I get ideas?
Ask! Ask your clients/circle of influence what their biggest questions or FEARS are in your field. For example, in sales, mine would be that I loathe cold calling – do I have to do it? How do I do it effectively? How many calls? How do I find cold leads? Etc… THIS is ideal for a business blog post, short video or downloadable article.
Read other business blogs. Look at competitors online, not just local but global, for valuable ideas. Use their articles to inspire yours. Remember that the value isn't just in the information, but YOUR EXPERT TAKE on the information. That is how you impart your authority and expertise with your audience.
Content Creation System
Once you have the ideas (get at least 6 to start) for your business blog it's time to create the content. Here are some tips to making it painless.
The smartest thing you can do is to create multiple pieces of content in one sitting. Dedicate a few hours to create a few pieces. With the tips below, you can get it done pretty quickly.
For each content idea, create at least five points of interest for each one. Use the six questions of journalism (Who, What, Where, When, Why, How) to create an ask/answer structure.
What is it?                                                                                Answer (one/two paragraphs)
Why do people do it (purpose)?                                         Answer (one/two paragraphs)
Why do people fail at it?                                                      Answer (one/two paragraphs)
Who does it?                                                                            Answer (one/two paragraphs)
How do I do it successfully (walkthrough)?                    Answer (one/two paragraphs)
When do I do it?                                                                      Answer (one/two paragraphs)
Use audio to record your answers. Since business blog posts are conversational in their approach, rather than formal, you can record your answers using an audio transcribing program (Google Docs has one built in). Just blast away with the answers. Then clean it up after it's recorded.
What Do I Do With the Content?
If you create multiple pieces at a time, most blog platforms (eg WordPress) allow you to preload the content in advance to load on the date/time you like. WordPress allows us to select the date/time in which a post is published (see red box below). With this you can load up as many pieces of content as you want and have them publish at a set schedule (eg. monthly):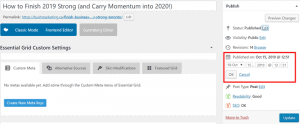 Sharing Your Business Blog on Social/Email Newsletter
Great tip here. You can also preload your social media using a productivity app called Hootsuite. You can make your email newsletters in advance as well, using an email service like Mailchimp.
Lastly – A Recommendation
Depending on how busy you are, consider getting help.
Investing in a VA or social media assistant to handle the posting/social/newsletter is a SMART investment if you haven't the time.
And of course, if you don't want to do any of it at all, contact us at Bush Marketing to see how we can help you.
Bush Marketing | Web Design Company Toronto | SEO Company Toronto | Call Today!