"We get more traffic on our website, and the kind of leads are the exact kind we're looking for. Overall, the project was a complete success."
– Gregg Little, Owner, Springbank Mechanical

Located in Mississauga, Ontario, Springbank Mechanical Systems specializes in providing commercial HVAC and refrigeration systems, as well as energy-efficient building automation systems.
First launched in 1990, Springbank has grown from a 5-person operation to over 70 service professionals with a fleet of over 50 vehicles, and an impressive roster of clients from some of Canada's leading commercial property managers and retailers.
"I'm proud of the work we do. Much of our success comes from maintaining strong relationships with our clients, and following up with as many leads as possible. However, we felt our website wasn't capturing the amount of new leads it should be, so we decided it was time to completely revamp it."
– Gregg Little, Co-founder, Springbank Mechanical Systems

The Springbank team understood that they needed a new website to attract new leads and perform better in search results, but weren't sure how it all worked in the background.
"We felt our website was antiquated and out of date. It needed a modern spin to make it more customer friendly and represent our company better. The challenge was finding someone who could make it all work."
– Gregg Little, Co-founder, Springbank Mechanical Systems
To get the project started, Gregg turned to Andy Bush, President of Bush Marketing, for help. Andy quickly arranged for a discovery session, setting the stage for a successful, profitable partnership.
"Andy had a really good grasp on what we were looking for. After listening to our needs, he came up with some really great ideas and delivered a proposal with all tasks and costs clearly outlined. The whole process was very easy, and flexible enough to handle adjustments as we moved through the project."
The Bush Marketing Solution
Andy's team got to work to deliver a website that would fulfill all of Springbank's needs. Highlights of the project included.
Complete refresh of Springbank's website with an attractive design that clearly highlighted the company and provided an excellent customer experience on both desktop and mobile
New photographic images and professionally written copy to enhance Springbank's brand essence and corporate messaging
3. Search Engine Optimization
An enhanced on-page SEO strategy to help the website rank better, and increase views and lead conversions
"The entire experience was great. Andy's team provided clear and timely communication, the whole process was smooth, and the new photographs we took based on Andy's recommendations worked out really well. The project was finished on time and only needed a couple of small changes before we launched."
 – Gregg Little, Co-founder, Springbank Mechanical Systems

"Our team quickly saw positive results from the new website. We often get calls from customers who found our website and were impressed with it. We now consistently rank in the top 5 on page 1 of Google, and sometimes we're right at the top. We made the right decision by going with Bush Marketing."
– Gregg Little, Co-founder, Springbank Mechanical Systems
Not only are they seeing great results on Google, Springbank also has seen an 800% increase in website traffic, and a 970% increase in web conversions.
"We're very happy with the results," Gregg says. "We get more traffic on our website, and the kind of leads are the exact kind we're looking for. Overall, the project was a complete success."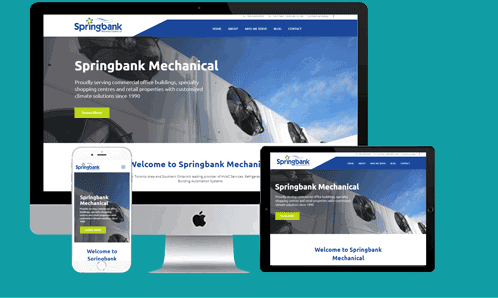 Bush Marketing continues to support Springbank with monthly blog writing to help maintain a strong web presence and provide Google with regular new content to index. Also, Andy regularly checks in with Gregg to ensure their website continues to perform well, and is still current with Springbank's services and brand image.
Most recently, Springbank has used Bush Marketing's expertise to develop additional digital marketing materials, including a corporate video to further showcase Springbank's brand story and service offerings.
Ongoing Support from Bush Marketing
"Our ongoing relationship with Andy's team continues to bring positive results. I highly recommend Bush Marketing for their excellent level of customer service, proactive after-care, and high-quality solutions that work."
– Gregg Little, Co-founder, Springbank Mechanical Systems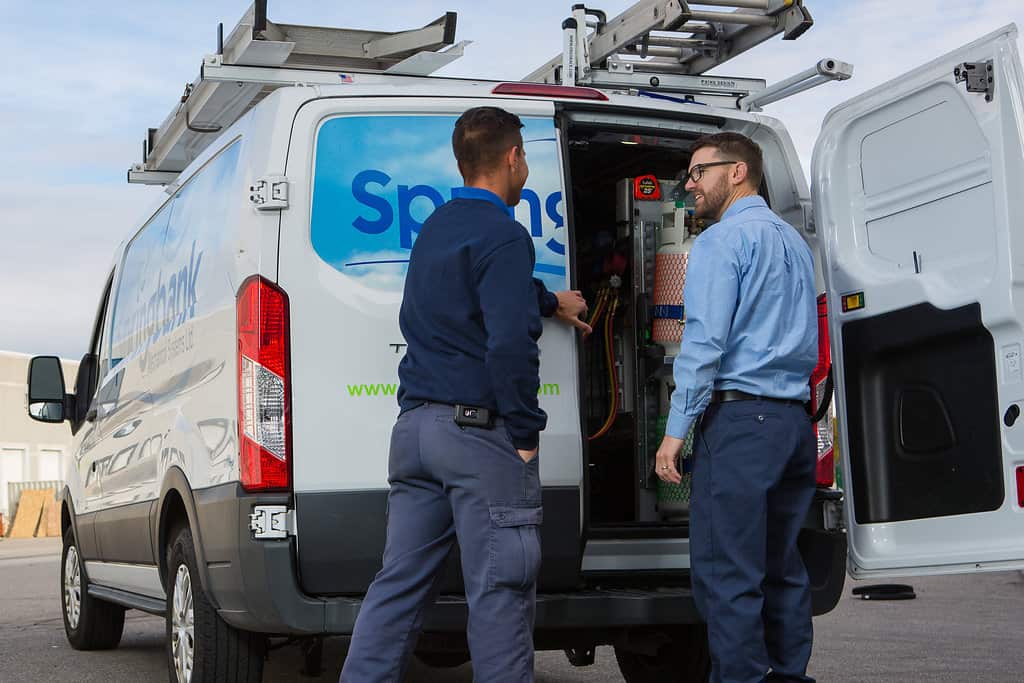 Content Marketing Services in Toronto, Across Canada, and Around the World
Since 2008, Bush Marketing has been helping businesses succeed with effective strategies that focus on growth. Get in touch with us today to learn how we can help you reach your business goals.